A unique AI and ML powered business intelligence solution that converts your Tally® data into meaningful business insights.
Learn More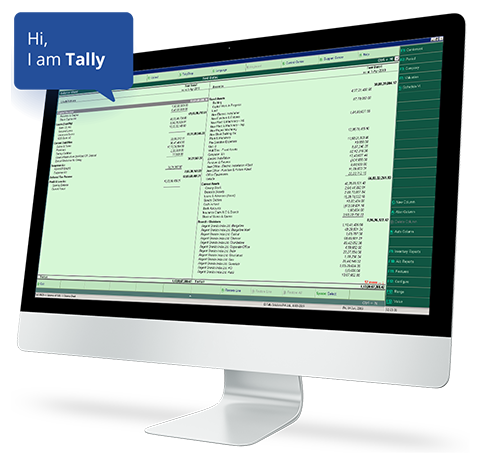 From data to intelligence
– Talligence

Don't hunt for information. Just ask! Our intelligent Talligence chatbot acts as your virtual assistant to retrieve data that you seek.
Learn More
Talk to your data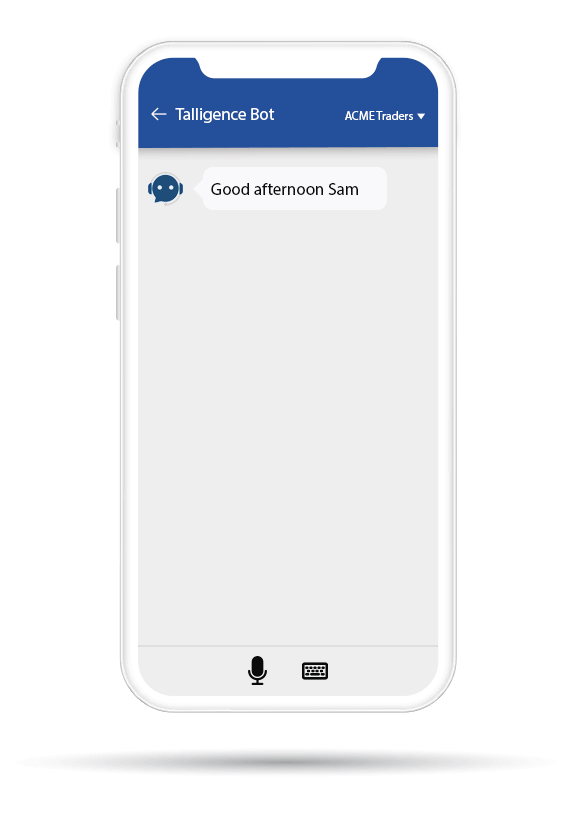 Secured and safe access over the native mobile app. Register and authorize mobile devices via OTP and authentication to add that needed layer of security.
Learn More
Native mobile apps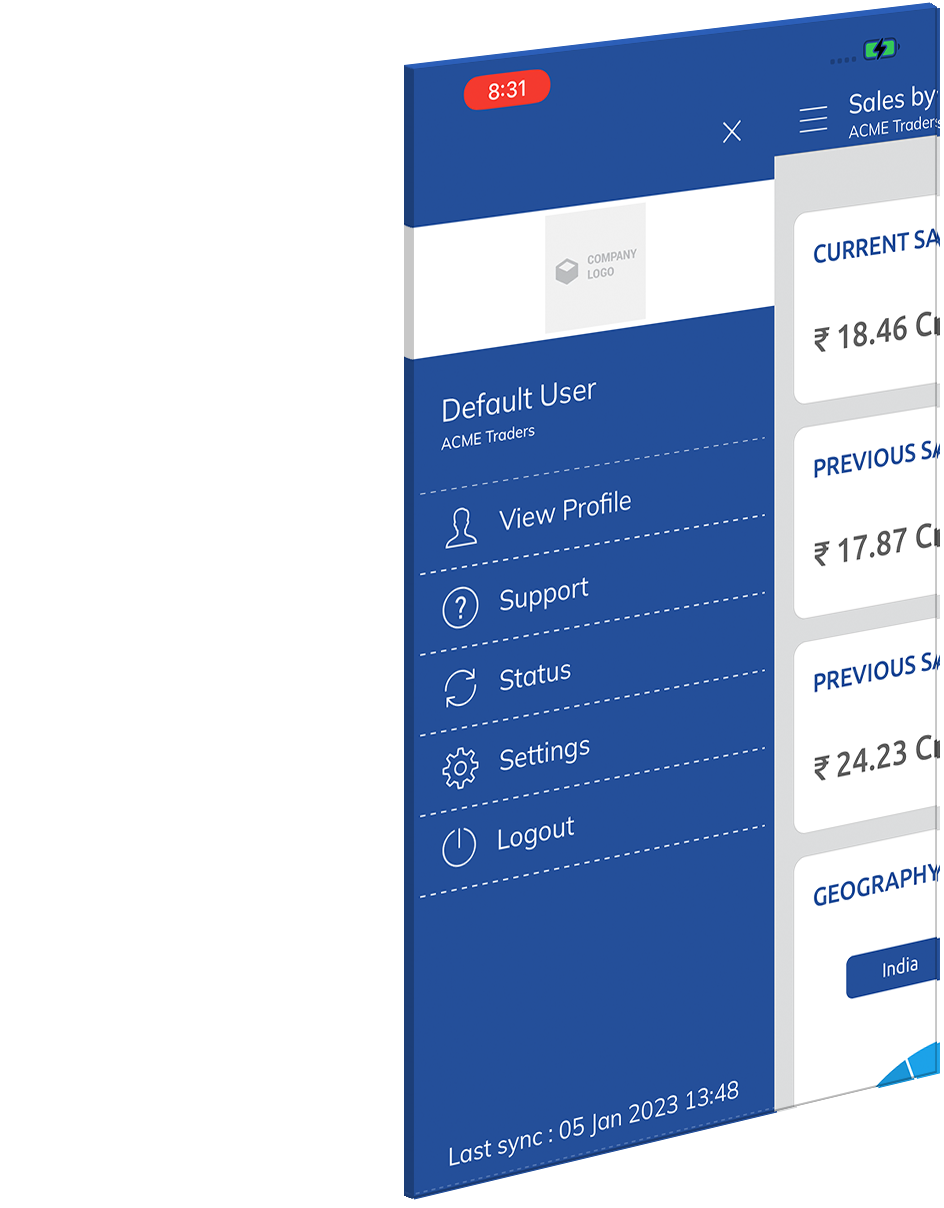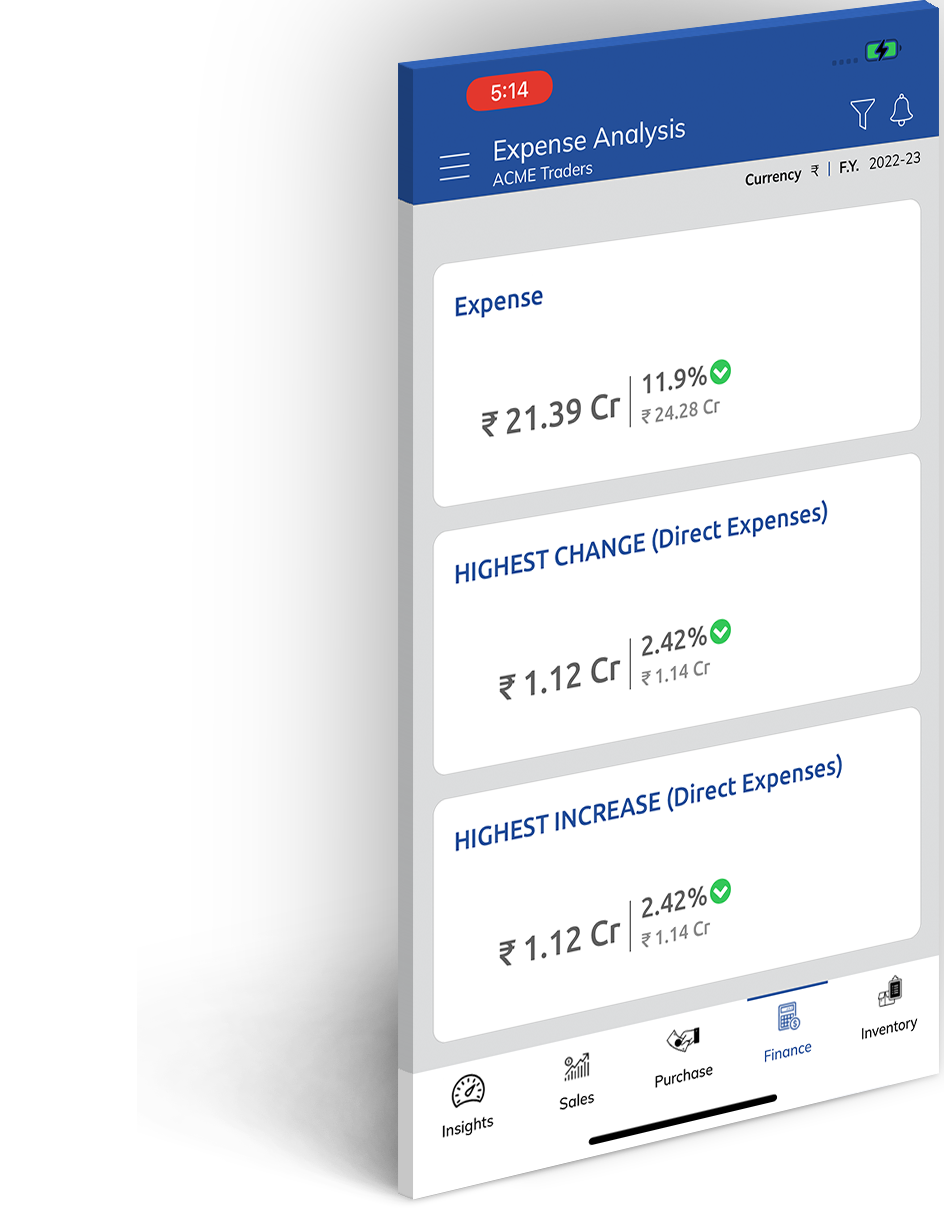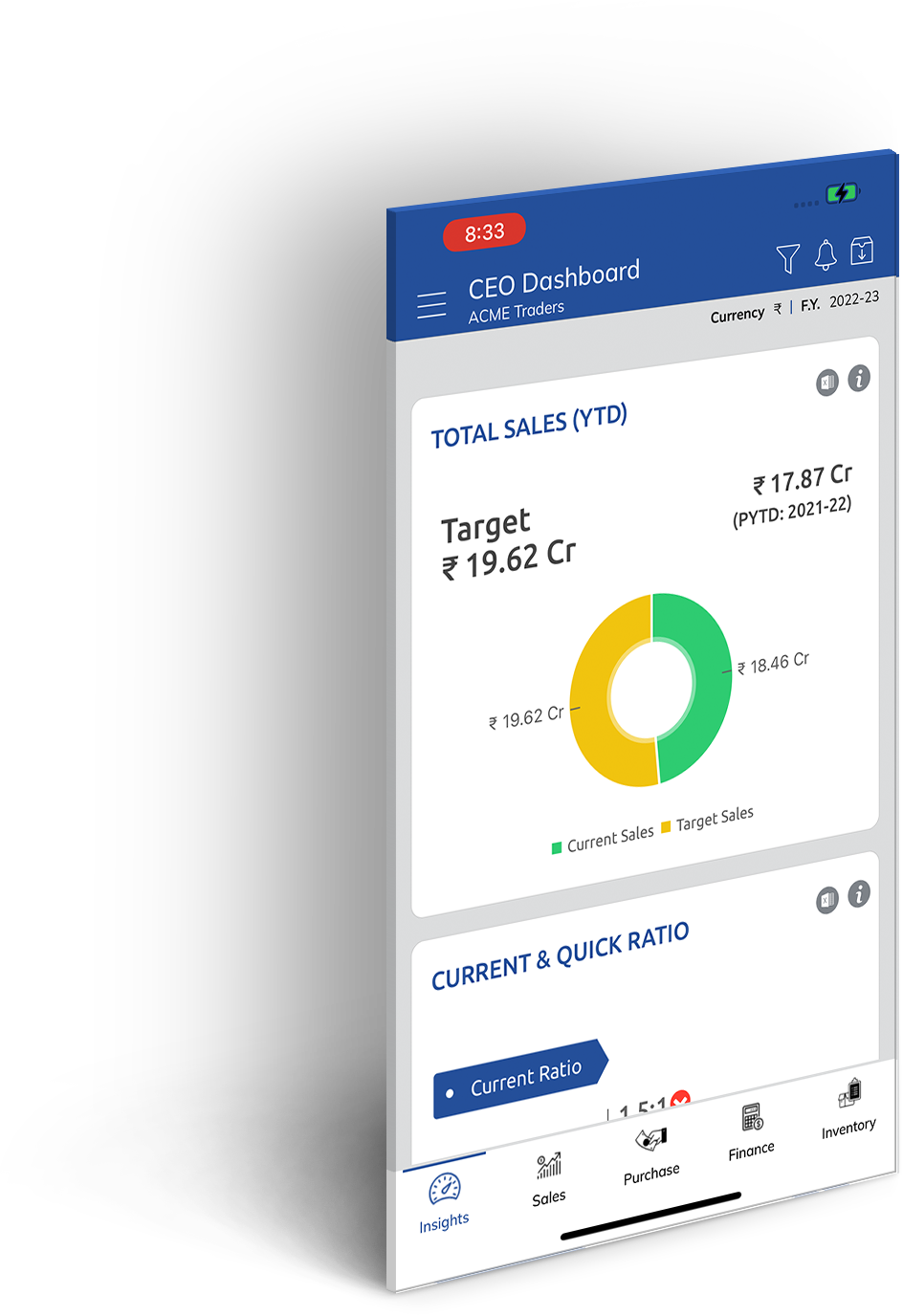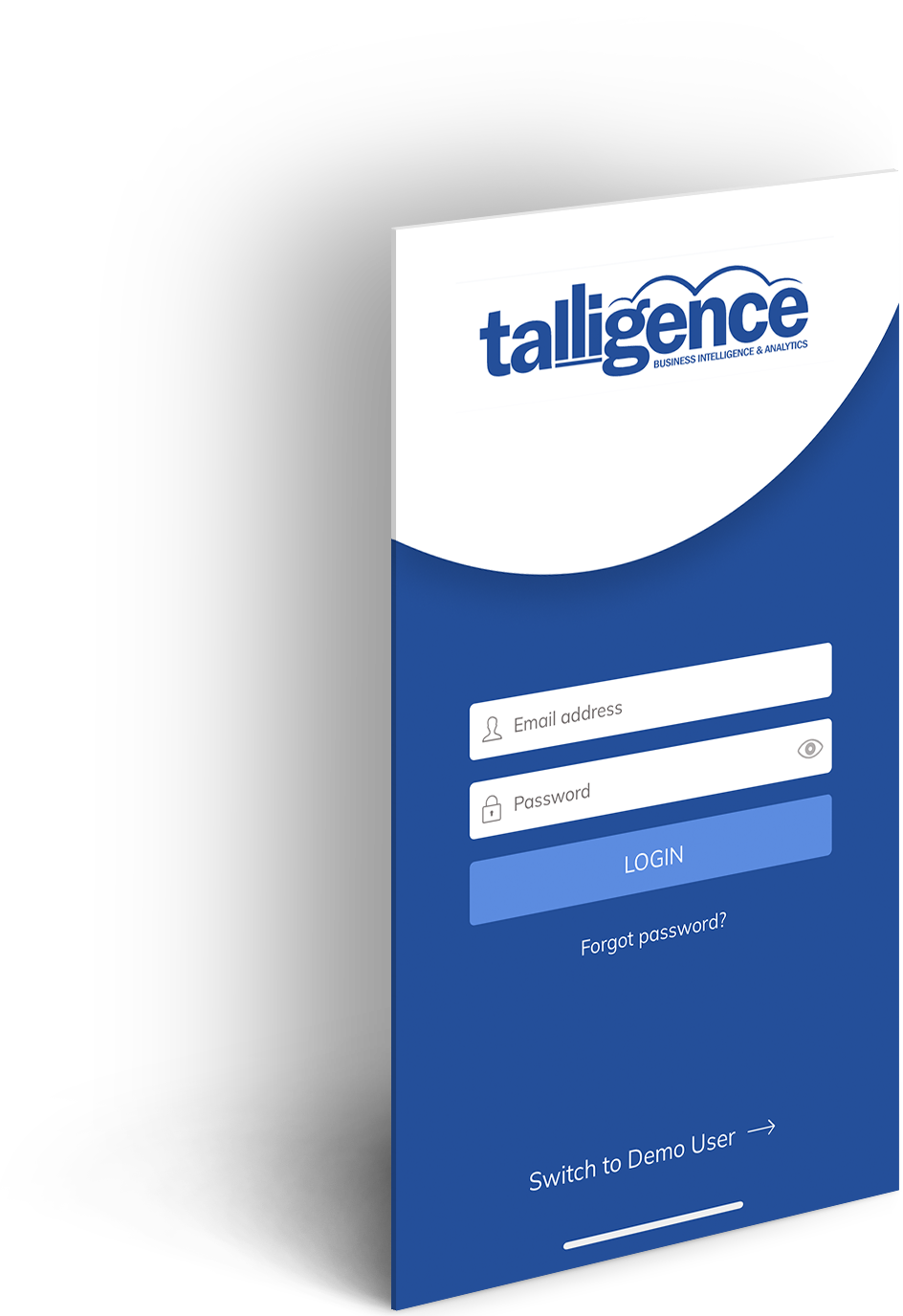 Start your journey from data to business intelligence
Experience Talligence in action! Simple, powerful, affordable. See it for yourself what Talligence can do for your business.
WHY SHOULD I USE TALLIGENCE?
Here are top 5 reasons to choose
01.
Insightful dashboards
Sales, purchase, inventory, finance and many more data rich dashboards which are pre-defined to ease your journey of business intelligence from raw data. Designed keeping in mind your business needs such that you can filter and drill down easily to get that data that you want.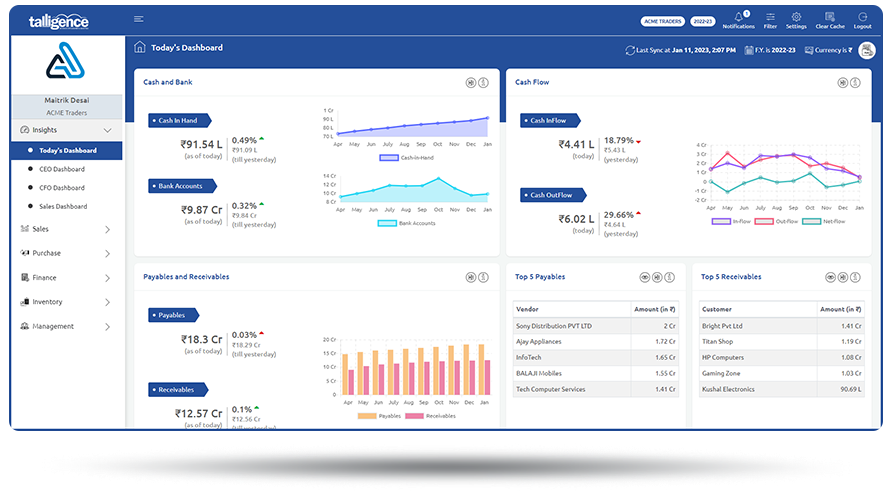 02.
Key performance indicators
Tired of pulling your Tally® data into excel sheets? Spending heavily on custom development and still not getting the analysis that you want? Talligence is your answer. Track your business performance with our pre-defined and industry standard KPI sets. Set targets and thresholds on key data points and get notifications whenever the conditions are met.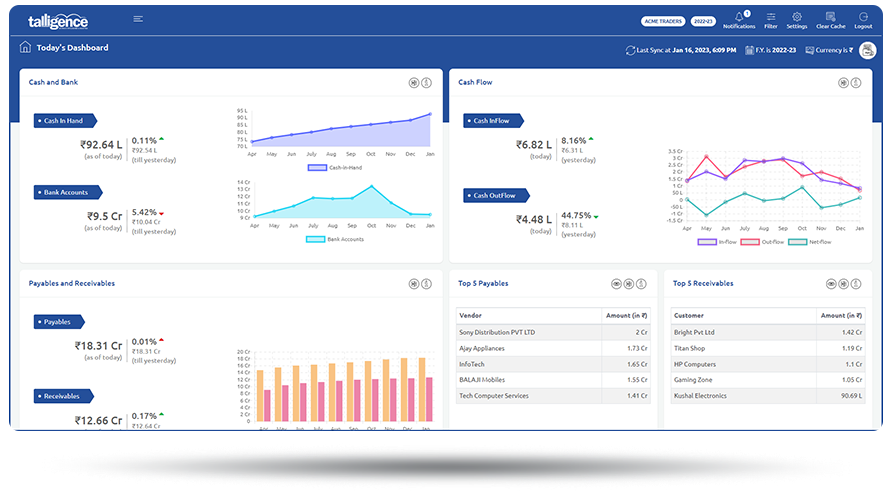 03.
Talk to your data
Do not hunt for information. Simply talk to your data via our Natural Language Processing (NLP) and Natural Language Understanding (NLU) powered intelligent chatbot. Talligence chatbot is an artificial intelligence (AI) powered virtual assistant that is trained to respond to questions. Just ask, "what is my sales this week?" and get ready to be presented with insightful graphs and data.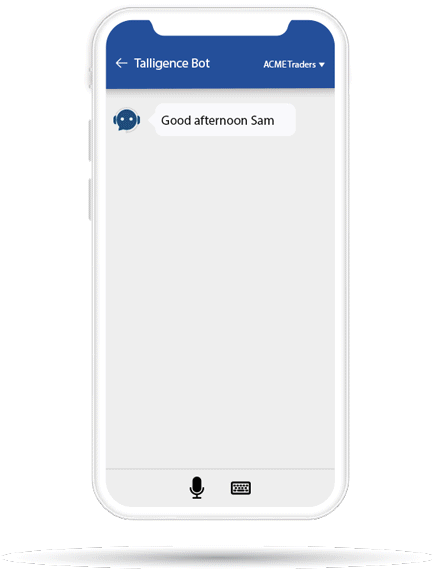 04.
Easy user management
Easily control user permissions so each user sees what they are required to. Create and configure users, assign them roles, define access control over dashboards and much more. Decide who can access Talligence over mobile devices via a native mobile app for that added layer of control.
05.
Secured data transfer
Light-weight Talligence connector that leverages the power of Tally® ODBC connections. Install it anywhere in your organization to allow easy selection of companies that you want to sync to the Talligence cloud. The data is securely transferred over encrypted channels to start your journey of Business Intelligence from Tally data.
Our customers love Talligence, and so will you…
Talligence is simple to use and easy to implement. It has eliminated total cost of ownership, was implemented in a day, and there is no requirement for special skills or consultants. Talligence is greatly helpful in monitoring day to day financial operations as well as providing detailed financial analysis to management. We are glad to have chosen Talligence for our organization
CFO
A leading tile manufacturing company
We evaluated various Business Intelligence software options. After stringent evaluation we found that Talligence is way beyond the mark of available BI tools in the market. While other tools just provide with graphs and charts, Talligence brings out true intelligence from the data and presents analytics in its purest form. The mobile app has been proved as a game changer eliminating my need to connect to my office every time to know KPIs of critical areas of my business.
CEO
A leading construction group
Talligence played a pivotal role helping my sales team tap into the sales data collected over years, but which we had extracted very little value from. We realized that with Talligence we could gain an insight into our sales performance and trends. Specifically it helped us give a consolidated snapshot of sales activity happening in numerous outlets spread across the country. It has helped us present information to management in a more strategic manner.
Sales Head
A leading retail chain
Partner with Talligence
Simple, flexible and profitable partner program that helps you grow your business. Be it a VAR selling Tally licenses to ISVs integrating systems or even affiliates and referral agents – all will find a crafted solution to complement their business.